Back in the good old days, I was an occasional Instagrammer. I posted once a month, if that. I'd snap a photo of my dog or my vacation or the killer oatmeal I had for breakfast and throw it up on Insta with a Nashville filter for all my friends to see. I didn't really care about the number of likes I got, or posting to Stories, and I didn't even have a bio. There was zero pressure. Just doing my thing when I felt like it.
Learning how to use Instagram for my business was a complete 180. It went from being fun to suddenly being, well, work. I started tracking my likes and follower counts like one tracks the stock market. There were posting schedules and reporting metrics and daily check-ins.
It gave me flashbacks to my Tamagotchi.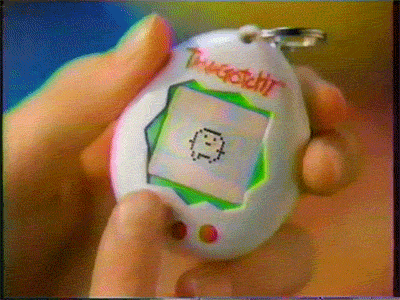 But how you treat your personal Instagram and how you treat your business on Instagram should be different because they serve different purposes. Instagram for your business should feel like work, because it technically is. You should have a rigorous Instagram strategy, because it needs to be serving and supporting your brand.
And that doesn't happen by accident. It happens by being intentional with your approach, from the top down. And that starts with creating an informative and professional Instagram business profile that speaks to your audience and makes you stand out.
What's the difference between an Instagram business account and a personal Instagram account?
Some people begin building their small business on Instagram using their personal account. It makes a lot of sense – you've already got a relatively loyal following (assuming you have nice friends) and one Instagram account is more than enough Instagram for most.
Other people (like myself) subscribe to the whole separation of personal life and work life. Which, if we're all being honest, is a rather naïve concept to have as a small business owner. But hey, we're nothing if not idealists. So we have two accounts – a business account that we post to regularly and a personal account that is currently gathering dust and cobwebs (at least mine is).
Is one method preferable to the other? Not really. It's all about your personal preference. But whichever method you chose, if you're serious about growing your brand on Instagram, I do recommend making sure that the account you're using to promote your business is an Instagram business account. Why, you ask?
You get access to analytics so you can track how your posts are performing and get different insights on your audience.
You can promote your posts to be seen by a larger audience. By putting a little money behind a post, you can "boost" it so it's seen by more people in your target audience.
You get access to extra business options in your profile, like Book Now buttons, Shop Now buttons, etc.
If you currently have a personal account and you want a business account, it's easy (and free!) to make the swap. Just go to your profile, click the Edit Profile button under your bio, and scroll down to where it says Switch to Professional Account. Click and follow the prompts.
The core components of an Instagram business profile
Your Instagram business profile consists of 7 key components that help provide people on the platform a quick snapshot of who you are and what you do.  We'll use Magnolia Bakery as an example, because right now I'd give anything for a good Magnolia cupcake. 🙂
1. Account username
Your username should be closely related to your business name and should ideally be the same or very similar across all of your social media profiles. You get 30 characters, so try to keep it short, sweet, and easy to remember. If your username is not available consider variations with punctuations or make it more descriptive. For instance, atlasandanchor was already taken by a tattoo parlor in Pittsburgh so we used atlasandanchorcreative. But we could have also tried atlas_and_anchor or atlas.and.anchor.
2. Profile photo
Generally speaking, for a business or brand, this should be a crisp, clear version of your brand logo or submark. If you're the primary face of your brand, it could also be a nice headshot of you. Your profile photo will be cropped to 150×150 pixels, so make sure the photo is focused. And remember, you're never fully dressed without a smile!
3. Name
This often gets confused with the account name or business name, but here's a little known fact – your Name is actually the only part of your profile outside of your username that is searchable. So if you're not a giant, nationally recognized brand, add some keywords to this sucker to help people find you. Don't believe me? Go type "designer" into your Instagram search bar and look at the Names of the results that come up.
You only get 30 characters, so be brief but impactful!
4. Category
In a business account, you have the option to provide a general category that your business falls under (e.g. Art, Consultant, Restaurant, Café, etc.). There are many to choose from, or you could opt to not display a category at all. Since it's not searchable, the only purpose it really serves is to provide more information about your business to the people looking at your profile.
5. Bio
Your bio is where you can get creative and share a little bit about what your business is all about. A good rule of thumb is to provide an abbreviated version of your brand mission – what you do, who you serve, and how you serve them. I also recommend having a call to action or a promotional offer to encourage people to click on your website or message you.
You get 150 characters here, so less is more. But be personable, use your brand voice, and maybe spice it up with some emojis!
6. Contact info
If you add a website, phone number, or physical address to your profile, you can opt to have them show up here. At minimum you should always have a website.
7. Action buttons
The default action buttons are Message and Follow, but if you add an email to your Contact Options, Email will also show up as a button. There are additional buttons you can add as well if your business offers certain things, including, Donate, Gift Cards, Order Now, and Book Now.
Instagram is all about being social and making introductions, and that starts with a strong profile that is approachable and on-brand. So definitely take a little time to think about the impression you want to make, and then craft your profile accordingly.  Then start showing that baby off with our best tips for getting your account seen!
Got a burning question about Instagram? Drop them in the comments below and I'll answer them for you!
easy tips for better, simpler marketing
Our fool-proof hacks and quick tricks for marketing success, delivered right to you.  Unsubscribe at any time.