As a small business owner, you've maybe heard some rumblings about the importance of building an email list and how it's a powerful way to keep in touch with customers and can provide a steady stream of leads and sales.
And you might've said, "Ummmm steady stream of leads and sales? Sign me up (no pun intended), please and thank you."
You probably did some googling and settled on an email service provider (if you still need one, I share my favorites over here). And you set to work setting it up, integrating it with your website, finding an email template to use, and all that good stuff.
You're ready to send your first email. You're ready to see those sales stream in. There's only one, teeny, tiny problem.
You only have a handful of subscribers on your list. And one of them is you. And another one is your mom.
Who knew setting it up would be the easy part? And by easy we mean not as hard as launching a rocket ship to the moon, but not exactly a cakewalk either, especially for the less technologically inclined among us.
Getting people to subscribe to your email list? Now that's the hard part. The good news is that there are things you can do to increase email opt-ins and jumpstart your list growth right this very minute.
A successful email list-building strategy that helps you quickly build your email list from scratch all comes down to these three list-building tips:
Providing the right value
Making it easy to sign up
Getting it in front of the right people
Let's dig in to each of these so you can start attracting more subscribers and get growing that money-making list!
List-building tip #1: Provide the right value
I don't know about you, but I'm pretty tight-fisted when it comes to my email address.  The last thing I need is more emails that I have to sift through on a daily basis that may or may not have information that's useful to me.
BUT if someone offers something of value to me in exchange for my email address, I'm much more likely to fork it over.
The first rule of list-building? Offer something valuable that is worthy of the subscriber's time and effort. It doesn't need to be something big or expensive. It just needs to be *enticing* and *relevant* to your ideal audience.
Enter your opt-in offer. Your opt-in offer is something you promise to give people in exchange for their email address.  If you're looking to quickly build your email list, an opt-in offer is like the toy in your happy meal.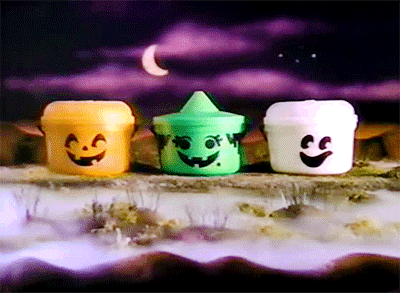 You can grow your email list without one, but the right opt-in offer can really sweeten the deal and help you grow faster.
(Side question for all you 90s kids – were the Beanie Babies, Barbies, or Hot Wheels cars the best happy meal toys?  Tell me in the comments!)
In my experience, a good opt-in offer is:
Something that can be used now or in the next few days (people like instant gratification)
Something that gives them an easy win (they also like to see results quickly)
Something that sets them up to take the next step in your business (for example, a coupon sets them up to make a purchase, a webinar sets them up to join your course)
So, what kind of value can you provide? Here are some ideas:
Share a helpful guide, checklist, or cheat sheet that helps your audience solve a problem
Offer a discount, coupon, or free shipping
Provide access to a video training or webinar
Promise exclusive updates or introductory pricing for a special promotion (like a holiday campaign or launch campaign)
List-building strategy #2: Make it easy to sign up
Here's a little marketing tip from me to you – if you want people to do anything in your business, you need to make it as easy as possible for them to do so. Once they decide they want what you have to offer, don't make them jump through unnecessary hoops! The more steps you have, the greater your likelihood of losing people along the way.
The same goes for getting people to sign up for your email list. If you want to quickly build your email list, you need to make it easy for your audience to find your offer, understand it, and sign up for it.
This means providing a clear and concise opt-in form that reiterates the value they will get when they subscribe, contains all the necessary information (like how they can expect to receive your offer), and is easy to navigate.
You also want to make sure that the process of signing up is as fast and streamlined as possible. Make it easy for everyone to find your opt-in form.
Pop-ups on your website are great, but I also like adding a news bar to the header of your website. Having both basically guarantees that everyone who visits your site sees your opt-in offer and has the opportunity to sign up.
I also love using landing pages, especially if you're promoting your offer on social media. Landing pages are pages that are specifically designed to give people information and encourage them to take action on ONE thing.
If someone is interested enough to click, you want to make sure they're taken directly to the place they need to go to sign up. And that's where a landing page can be a HUGE asset to your business.
→  Related: The Secret to More Leads: A Good Landing Page
List-building strategy #3: Get your opt-in offer in front of the right people
Finally, if you want to quickly build your email list, you need to make sure that your opt-in form is getting in front of the right people and that you're sharing it often.
Having an opt-in offer is great.  But you could have the best opt-in offer in the world and it's still not going to do you any good unless you share it.  
No offer is going to do well without an informed group of people ready to take you up on it. So in order to really start building your email list, you need to get your opt-in offer in front of more people, and specifically, more of the right people. In other words, getting it in front of the exact people it was created for.
Also remember that just because you share it doesn't necessarily mean that everyone sees it or remembers it.  So keep sharing it consistently.  Work it into your social media posting strategy.    
There are a few key ways you can do this:
Share it on social media – get in the habit of sharing your opt-in offer every few days on platforms like Instagram and Facebook. If you're on Pinterest, create pins for it too.
Link to it in your social profiles so people always know where to find it
Write blog posts and articles that link back to your offer (bonus points if you add a sign up form to your blog sidebar)
Create an ad campaign specifically for your offer (this can be on social media or Google AdWords)
—
There you have it! These are 3 key ways to make sure your opt-in offer is successful. By following these tips, you'll be well on your way to growing a responsive and engaged email list full of your ideal customers.
Questions about list-building and email marketing?  Drop them in the comments!