The other day I was chatting with a client and she was lamenting the fact that she was struggling with the content for her About Me page. Man, could I relate. I rewrote my About Me page at least ten times, and am in the process of rewriting it again. After my homepage, it's the most visited page on my website and I feel like I'm putting myself on display a bit. It's a lot of pressure!
If you couldn't tell, I'm a bit of an introvert, so the fact that people are actively reading about me kind of makes me break out into a cold sweat. But when you think about it, it makes sense. There's always this deep-seeded fascination to know the person behind a project. When I read a book, at some point or another, I'm compelled to flip it over and read the author bio on the back.
I'm curious. And I just have to know. Especially if I like what I'm reading.
So what does this mean for your business? It means that, whether you welcome it or not, people are going to be interested in you. They're going to be intrigued. And in the absence of meeting you in person, they're left to sleuth on your website to figure out what you're about and if you're someone they want to "hang out" with or not.
So in effect, you're About Me page is where you make your first impression. And my question to you is are you making the right one?
How do you make a stellar first (digital) impression?  It's pretty simple really, if it follows these six main things. 
It's welcoming.
When you meet someone in the real world, you don't walk up to them and immediately accost them with a sales pitch. You say hello, you give a handshake or a hug (if that's your thing), you hopefully flash them your most winning smile. You kick things off with an easy conversation.
Approach your About Me page the exact same way you would meet someone in person. Be welcoming, charming, and personable. Have a photo of you where you are genuinely smiling and looking at the reader. Do not have a glamour shot where you're looking off wistfully into the distance. Do you do that when you meet someone in real life? If not, don't do it here!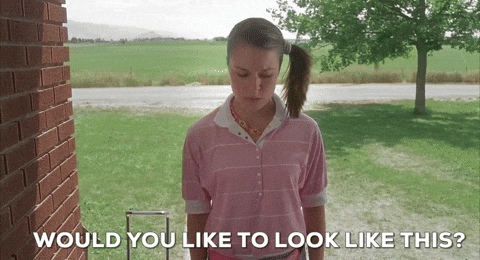 It's relatable.
People like people they can relate to.  It's been that way since kindergarten, when you and your first best friend bonded over Strawberry Shortcake scratch and sniff stickers.
A great way to approach your About Me page is to infuse it with your interests or things that are important to you because it gives people a chance to connect with you on a more personal level. Saying that you're a momma to a little peanut who is currently at the stage of getting into everything is something that other women can relate to. It literally makes them think, if not say aloud, "Me too!" That's what you want. You want to strike a chord that reverberates even after they've left your page. That, friends, is the golden ticket.
It exudes your personality and flair.
People who are interested in your business are also trying to figure out if your personality will mesh with theirs. As an entrepreneur, one of the key things that sets you apart in your industry is you. If you're witty and fun-loving, is that felt in your writing? It can seriously be hard to write about ourselves because we want to come across a certain way. But make sure it's authentic to who you are. Don't try so hard to be prim and proper if you're naturally a little more bubbly and vivacious.
It's memorable.
Question.  Which sentence is more memorable? 
"I love coffee and books."  Or:
"I'm a coffee addict who always prefers hot coffee to iced – even in the summer – and a self-described bookworm that can't get enough of murder mysteries and true crime."
Your About Me page is an opportunity to stand out in a memorable way, so get crafty with how you word things. I can say that I love coffee and books, which is totally true, but it doesn't really set me apart from all the other entrepreneurs out there who are saying the exact same thing. So I can either get more creative in how I say that or I can add something different that stands out (I love strong coffee and good books, but hate deep dish pizza. Ironic since I live in Chicago). You get the idea.
It strikes a balance.
We've all experienced it before. Someone goes from being fun personal to uncomfortable personal in a matter of 2.2 seconds. I call this Michael Scott syndrome.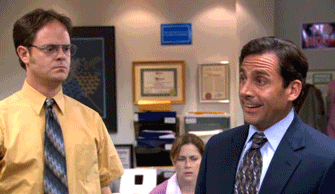 One minute they're talking about how they decided to leave their corporate job to pursue their own dreams and the next they're embarking on a two paragraph diatribe about the many personal flaws of their previous boss and where exactly he could put that red pen he seemed to be so fond of. Please, friend – don't be that person.
It probably goes without saying, but make sure you know your personal brand well enough to know where the appropriate boundaries are. Every brand is going to be different in terms of the balance you strike between personal and professional, casual and refined.  So it's important to be clear with yourself on where you draw that line.
It doesn't sell.
A lot of people would disagree with me on this one. But hear me out. When I'm trying to get to know someone, the last thing I want them to do is try to sell to me. It seems disingenuous, inauthentic, and it kind of turns me off. So I personally don't recommend pushing any product or service on your About Me page. Instead I'd offer an opportunity to connect in a deeper way, whether that's saying hi via email, scheduling a "get to know you" call, or hanging out with you on your social feeds.
So you might be saying, well this is great and all but I'm terrible at sharing things about myself. And I totally get it. 
My advice? Take the writing part out of it. Instead of opening up a blank page, fortifying yourself with a giant sip of coffee, and then positioning your fingers on the keyboard in the hopes that the words will just flow, try getting some thoughts down first.
To help you out, we've got a fun multi-page quiz designed to pull out the unique, interesting, and quirky things that make you irresistible in an easy, low-pressure way. They're the questions we sometimes forget to ask ourselves, but can really help us get to the root of who we are and why we do what we do.
Don't spend too much time on it – the best answers are usually the first things that pop into your head. At the end, read back through your responses and pull out the recurring themes, interesting nuggets, and fun anecdotes. Those are your main points.
Dress them up a bit, add a little context, and you'll have a unique About Me page brimming with your personality and guaranteed to attract your best clients.
write your best about page ever!
Download the free digital worksheet now!